stellar tunic
February 26th, 2014
This is the Stellar Tunic from the new Heavenly Collection by Figgy's. I have sewn a fair bit of Figgy's patterns. Actually when I look back, I've sewn a ton of Figgy's patterns:
1. tee for two 2. ayashe blouse 3. sunki leggings 4. sunki dress 5. nintuna jacket 6. tee for two dress 7. banyan tee 8. robes 9. tee for two
Why have I sewn so many? Because Figgy's patterns are fun to sew! The designs are very modern, but designed with real kids in mind. They are constructed in interesting ways, but not impossible to sew.  I usually learn a new technique when I sew with Figgy's patterns. Most importantly they are comfy and my kids like wearing them.
When Shelly asked me to be a part of the tour for her new collection, I jumped at the chance. I was drawn to the stellar tunic, because it looked fun to sew (and because my daughter needed short sleeved tops).
I have to say, the best part of sewing this shirt was picking out the fabric. I don't quilt much (or well) so I forget how fun it is to go through my scrap bin mixing and matching different bits of fabric. You get to reminisce about the projects you made and put all kinds of crazy patterns together. I love it.
But you have to walk  a fine line between modern patchwork chic and that crazy patchwork hippie phase I went through in highschool. This tunic is squarely on the modern side of things. My daughter loved that it had bits of fabric from her old shirts and her old sheets even! Actually the very first dress I ever made for my daughter had a bit of patchwork in it.
I was so nervous making that dress. The pattern was old and weird and slightly confusing. The pattern for the Stellar Tunic on the other hand, was simple and easy to follow. The shirt came together in a snap! The only fussy bit was attaching the patchwork sleeves to the knit part of the shirt, but Shelly holds your hand the whole way.
Usually Figgy's patterns run exactly to size. This one I found to be just a little big, which is great. This tunic will be perfect for summertime, because it will be summer someday, right? High temperatures will someday be above zero, right?
Until then we're stuck with winter. Make your time inside enjoyable by checking out what everyone has made from the Heavenly Collection. There are some real gems in there like Cherie's pretty dress and Brienne's cozy sweater.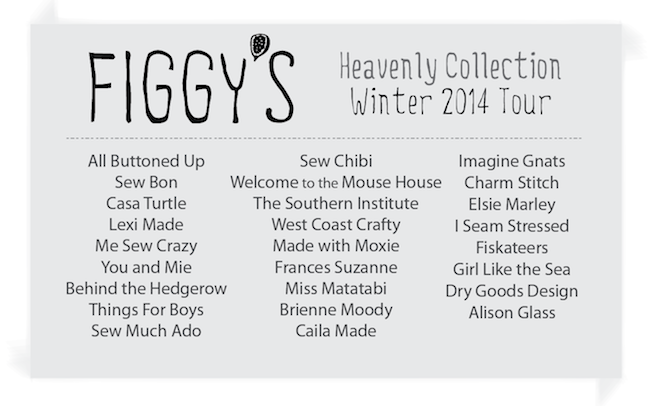 * I was given a copy of this pattern for the tour, but my opinions are as always my own.