Spring is here and my kids have no clothes to wear. Well not really, but definitely not enough cute, springtime ones. KCWC to the rescue! If you have no idea what I'm talking about, that is completely understandable. KCWC stands for Kids Clothes Week Challenge. It's one week (I'm sure you figured that out) where we commit to sew one hour a day for 7 days. Sewing clothes, of course, for our kids!  Or other people's kids, but not your inner child and absolutely not your canine child.
Sound good? Want to make a big pile of little skirts and dresses and shorts and bow ties? Because a lot can happen in a week if you put in a little time each day. And with hundreds of people sewing along with you and cheering you on, well, you can't help but make great stuff! So leave a comment on this post to tell me you are in! Then grab a button and post it on your blog (if you've got one) to spread the word. You can even head over to the elsiemarley flickr group to check out past KCWC and join so you can post for this one.
If you'd like to know a little more about KCWC, hop on over to the FAQ page. Then hop back here and sign up!
kcwc buttons:
(copy and paste the code under the buttons)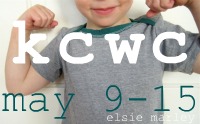 <a href="http://www.elsiemarley.com/kids-clothes-week-spring-2011.html">
   <img src="http://d1yops4utenhgf.cloudfront.net/kcwc_spring_2011_button1.jpg">
</a>
<a href="http://www.elsiemarley.com/kids-clothes-week-spring-2011.html">
    <img src="http://d1yops4utenhgf.cloudfront.net/kcwc_spring_2011_button2.jpg">
</a>